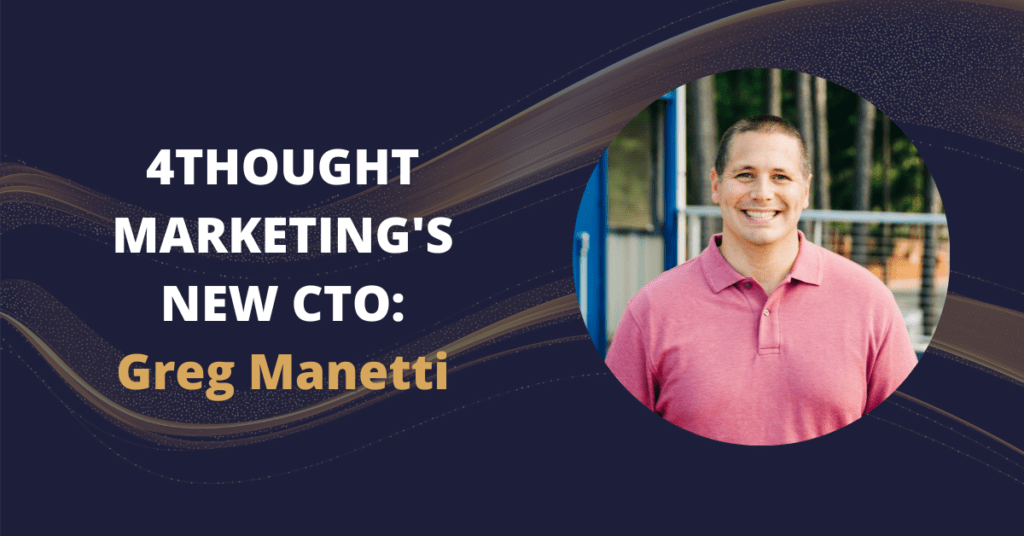 We're pleased to announce that Greg Manetti has joined 4Thought Marketing as Chief Technology Officer. Known for his passion for technology and proven leadership, Greg is a seasoned marketing technology professional with an impressive track record with several industry-leading companies.
Mark LeVell, CEO of 4Thought Marketing, couldn't be happier to have Greg on board. "Greg's unique blend of technical acumen and leadership skill is a rare find," Mark said. "We couldn't be more thrilled to have him spearheading our technology strategy."
As 4Thought Marketing's newly appointed CTO, Greg will be at the helm of our technological strategy while ensuring we consistently pioneer solutions that satisfy our clients' needs. We are confident in Greg's capability to drive us forward and achieve our strategic objectives.
Before joining 4Thought Marketing, Greg spent over a decade at Red Hat, where he rose to Senior Director of Marketing Operations. His role was to create a strategic technical vision, lead custom software and data engineering execution and ensure operational excellence of the MarTech stack. His initiatives became the backbone of Red Hat's global marketing intelligence/analytics and its multi-channel digital ecosystem. Greg's team was instrumental in swiftly delivering quality leads to sales, serving highly relevant content across various platforms, and generating high-quality, actionable data to optimize marketing strategies and expenditures. Greg later moved on to become CTO at Klearly, where he worked towards revolutionizing collaboration between sales and marketing teams. Greg aimed to empower revenue-centric professionals by providing clear, actionable insights from data, simplifying decision-making.
4Thought Marketing is committed to delivering exceptional customer value—a commitment Greg aligns with seamlessly. His demonstrated history of propelling innovative and top-tier solutions that foster business growth is a testament to his potential for positively shaping our industry.
We warmly welcome Greg to the 4Thought Marketing team and eagerly anticipate his positive impact on our organization.