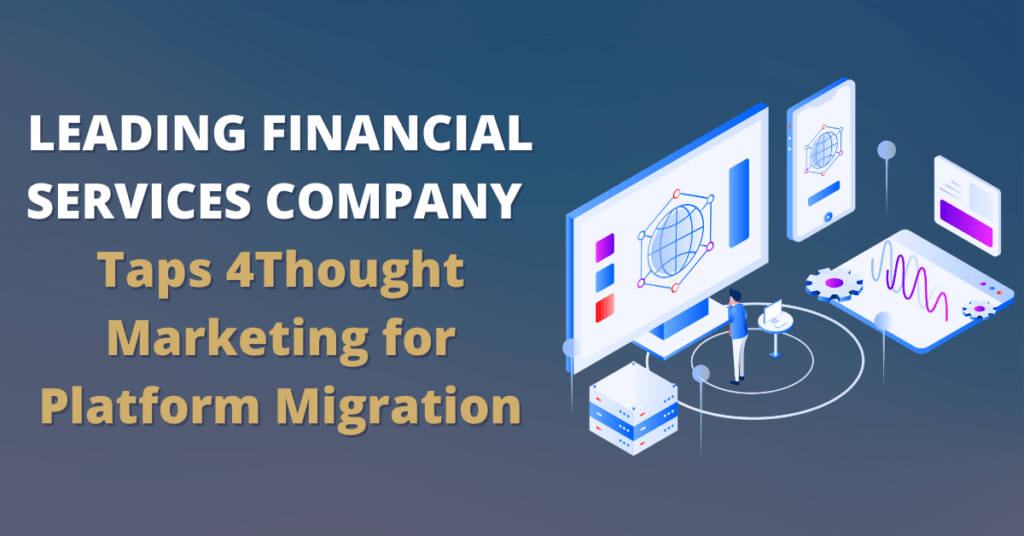 When a leading financial services company needed help getting their marketing automation platform migration project back on track, they turned to the team at 4Thought Marketing.

In early 2021, their VP of Marketing initiated a thorough review of their current MarTech stack. The decision was made to modernize all of their marketing systems, including their marketing automation platform. Company leadership signed the new contract in the first quarter of 2021, and shortly thereafter, the migration project began.

The purchase included both the software subscription and migration help from a platform partner. However, by the third quarter of 2021, the team was unhappy with the progress made so far. Several experts on staff believed the migration could move faster and more efficiently than it currently was. With this in mind, they began looking for additional outside help.

Fortunately for them, they reached out to 4Thought Marketing, with whom they already had an excellent track record of working together. Company leadership arranged for 4Thought to assist with their marketing automation platform migration, and asked 4Thought to take on additional responsibilities to make the process smoother.

A migration project of this scale typically requires at least 3 months to plan and execute. This client had only half that time left. But their leadership team trusted 4Thought to make it happen. "A smooth transition was critical," explains their MarTech and Architectural Manager. "The only way we accomplished that was with 4Thought Marketing providing invaluable training and support to our team."

4Thought Marketing stepped in and took on a leadership role for the entire migration process. Our team created a transition schedule, managed internal announcements to employees, hosted regular training sessions, answered staff questions, responded to technical issues, planned for future integrations after the initial migration phase, and managed communications between our own internal team and the client's team. Our Senior Marketing Operations Consultant took on the role of project manager. In the end, the client completed the marketing automation platform migration by its deadline: December 31, 2021.

For now, the client's employees are continuing to learn their new platform with training materials created by 4Thought Marketing. Established employees and newcomers alike can now take full advantage of their marketing automation platform to improve their output. In the following phases, the client expects to see improved adoption, utilization, and growth as a result of the switch.

4Thought Marketing is proud to have had the opportunity to assume a leadership role in this significant marketing automation platform migration. Contact us today to learn more if you're considering your own migration project.