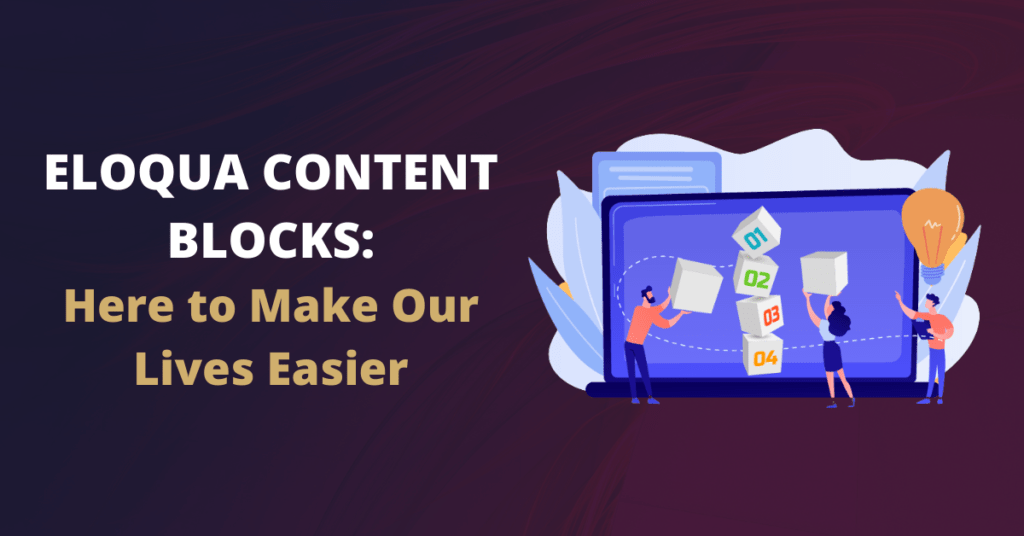 Who doesn't love a time-saving trick that can make our everyday work easier? With our calendars filled with endless meetings and projects to take care of, one of our top priorities should be to find resources that will help us be more productive throughout our workday. Nobody really enjoys sacrificing extra time to finish a last-minute task, after all. Anything that can lighten up our schedule is certainly very welcome. And that's exactly what the new content block feature in the Eloqua Design Editor does.
As part of the release 20B that rolled out in May 2020, Eloqua content blocks are here to stay. We love them at 4Thought Marketing, and our clients love them. Why? Simply put, they save both of us a lot of time.
What are Content Blocks Anyway?
To quote the Oracle Eloqua Help Center, "Content blocks are groups of layout containers and cells that can be re-used when building responsive emails or landing pages. They can be a combination of different cell types such as text, images, dynamic content, shared content, and more. By breaking down your most commonly used components and re-assembling them to meet the unique needs of each new email and landing page, you can more quickly create brand-compliant content with ease."
Our clients take advantage of content blocks in various ways, from quick fixes to overall layout and formatting consistency. We found this to be especially helpful when organizations have teams across different regions all working together on a particular project. With a simple drag and drop, anyone can create eye-catching email and landing page designs that are compatible with all email clients and render beautifully across different mobile devices. Reusable Eloqua content blocks provide a seamless, no-code approach that will ultimately help you create and edit templates much faster than before.
Ready to get started? Here's a quick walkthrough of the content block system that's helped so many marketers.
Creating Content Blocks in Eloqua Design Editor
Content blocks are managed from Eloqua's Design Editor, which is why they are automatically responsive. When you select the content blocks section highlighted in this picture, you have the ability to search or manage your block library.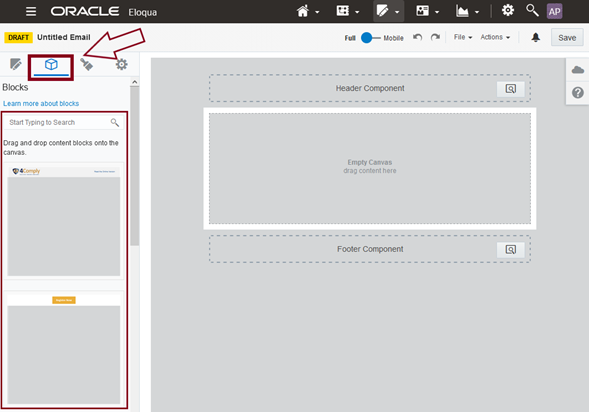 To create custom and reusable content blocks from an existing content section, select the layout that you would like to save as a content block and click on the block icon that appears on the right-hand side. It will prompt you to name your block before saving. You will now be able to find your block in the block library.
In our example below, we have a two-column set up with an image and a text block: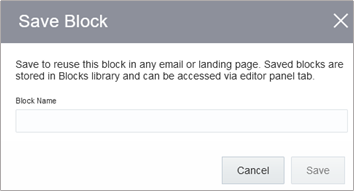 Once you have created and saved your custom content block, a simple drag and drop from the library will add it to the email canvas.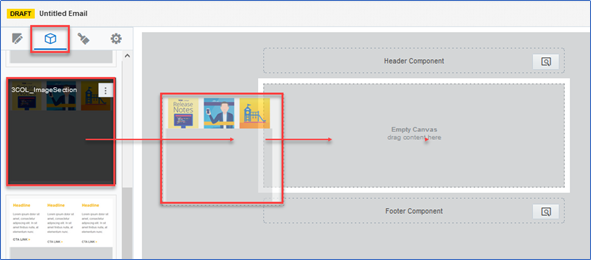 Editing a Content Block
After the content block has been saved and is visible from the block library, you may edit it as needed. Go to the block's options menu and click "Edit", as shown here: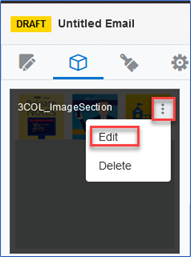 In the "Edit Block" screen, you can adjust and tailor your block to your design needs. Your new workshop will look like this:

Save Yourself Some Time with Eloqua Content Blocks!
When used efficiently, content blocks provide a hassle-free way to quickly build emails while increasing quality control and adhering to your company's branding guidelines. If you haven't tried creating your own custom blocks in our Eloqua marketing software yet, we strongly suggest you give them a try. You won't look back! The increase in efficiency and design will be more than worth the effort.
Still have questions? Get in touch with our team for pointers on properly using Eloqua content blocks in the Design Editor.