Personalized Customer Communication with Eloqua Custom Objects
With Eloqua Custom Objects (CO), you can easily segment and send hyper-personalized, time-appropriate customer communication.
Consider, for a moment, a recent email, website experience, or web advertising that you clicked on. Do you recall why you found that content compelling enough to respond? Perhaps it was a seasonal offer, arriving within an appropriate time window. Or was it to a topic or product you own or are considering, and you felt the time was right to act? Or did you receive it after making a purchase?
Let's contrast this to a time when you received a generic offer or email about something out of the blue for something you don't own or have no interest in. Of course, this happens all the time. And clearly, the best outcomes occur when the offer matches your most recent area of interest.
When someone makes a purchase, it's an excellent time to explore additional offers and upsell opportunities. Below is one possible campaign.
Automating Follow-Up Offers After Purchase
Consider how you would build a campaign using the detailed information stored in Eloqua CO records, including purchase history, areas of interest, and open leads. When a customer makes a purchase, but don't own a maintenance contract, you could make a follow-up offer using information stored in CO records. Your campaign design could also support multiple products and feel timely and relevant through personalization.
To make the campaign work, you need data stored in the CO record moved to the contact record. Unfortunately, Eloqua does not make it easy to move data from custom objects to a contact record. One option is to build a separate integration that finds and updates the contact record with their last purchase. At 4Thought Marketing, we've created a better solution, the CO to Contact Updater Cloud App.
Here's how it could work for the annual support contract upsell promotion campaign in Eloqua. First, a "feeder/segment" watches for new product purchases that don't include support. Next, the CO to Contact Updater App finds the CO Record for that purchase, copies all the necessary data required for email personalization such as product name and purchase date into the contact record. The email merges these fields creating a personalized email offer, and the campaign sends it to the contact.
Sample Campaign Canvas and Configuration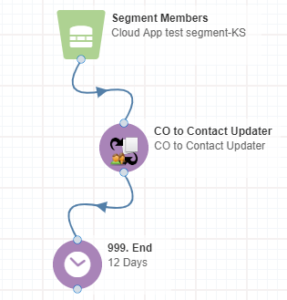 Using the CO to Contact Updater App from 4Thought Marketing, it's easy to create campaigns that automate personalized email offers, using the latest sales data stored Eloqua custom objects.
Available for both Campaign and Program Canvas
The CO to Contact Updater App works in the campaign canvas or a contact-based program canvas. A separate version that works in a CO-based program is also available.
What we've shown above is just one example of moving data between CO records and Contacts to enable personalization. While Oracle Eloqua is a powerful platform, it does not have solutions for every use case. 4Thought Marketing has a wide variety of cloud apps to make moving data much more flexible than you may have thought possible. You are only limited by your imagination using cloud apps to create new custom solutions to meet new requirements.
For example, we also have Custom Object Input Feeders, CO Form Submitters, and CO Deleter apps (and many others) that can help you take your Eloqua Custom Object development to a new level.
Contact us for a price list of all our apps or for more information on these apps, or if you have a special need that you just can't seem to solve via the built-in Eloqua functionally — a custom-built cloud app could deliver everything you've been wanting.