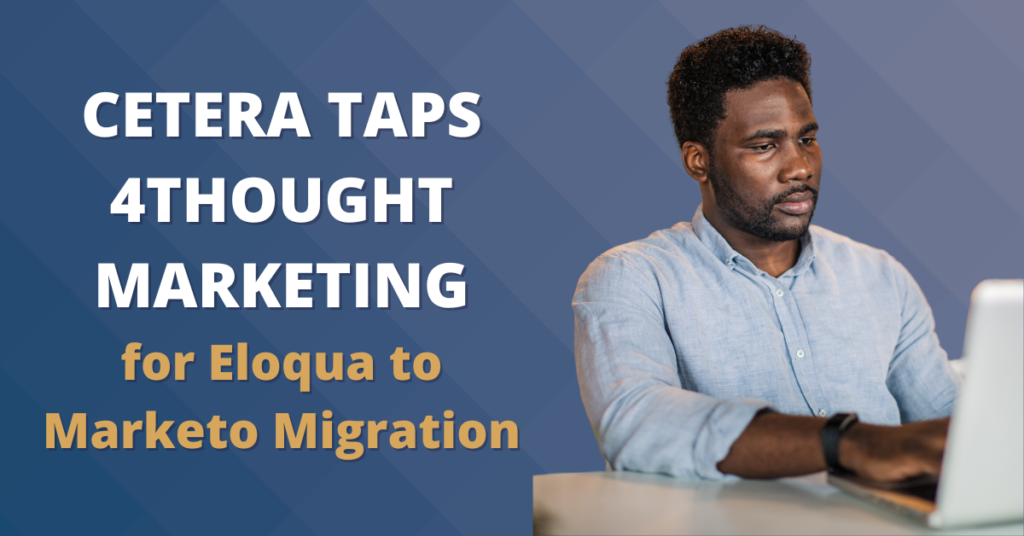 When Cetera Financial Group needed help completing their marketing automation migration project by the deadline, they turned to the team at 4Thought Marketing.
Cetera Financial Group is a leading financial services firm, overseeing and managing billions in assets, operating with the sole purpose of enabling the delivery of best-in-class financial advice to as many Americans as possible. Cetera proudly serves independent financial professionals, tax professionals, banks, and credit unions by providing wide-ranging financial planning and wealth management services.

Tasked with managing a prominent financial advisor community across multiple channels, the company recognized the need to revisit its MarTech stack and communication strategies. With that mindset, Cetera embarked on a digital transformation journey to remodel its marketing communications experience and capabilities.
The company needed a fully standardized and integrated marketing automation process and a partner that understood its business. Fortunately for Cetera, their marketing automation partner, 4Thought Marketing, had knowledge of their business and both Eloqua and Marketo.
A migration project of this scale typically requires at least three months to plan and execute. Cetera had only half that time. But Cetera's leadership team trusted 4Thought to make it happen. "A smooth transition was critical," explains Ed Rayyis, Cetera's MarTech and Architectural Manager. "The only way we accomplished that was with 4Thought Marketing providing invaluable training and support to our team."
4Thought Marketing stepped in and took on a leadership role for the entire migration process. The 4Thought team created a transition schedule, managed internal announcements to Cetera employees, hosted regular training sessions, answered staff questions, responded to technical issues, planned for future integrations after the initial migration phase, and managed communications between our internal team and Cetera's team. Our Senior Marketing Operations Consultant took on the role of project manager. Ultimately, Cetera completed the migration process by its deadline.
For now, Cetera employees continue learning Marketo with training materials created by 4Thought Marketing. Already-certified employees and newcomers can now take full advantage of their marketing automation platform to improve their output. Cetera expects enhanced adoption, utilization, and growth in the following phases due to the switch.
4Thought Marketing is proud to have had the opportunity to assume a leadership role in Cetera's marketing automation platform migration. Whether a company migrates to Eloqua or a different platform, we have the know-how and experience to complete the project successfully. Contact us today to learn more if you're considering your migration project.