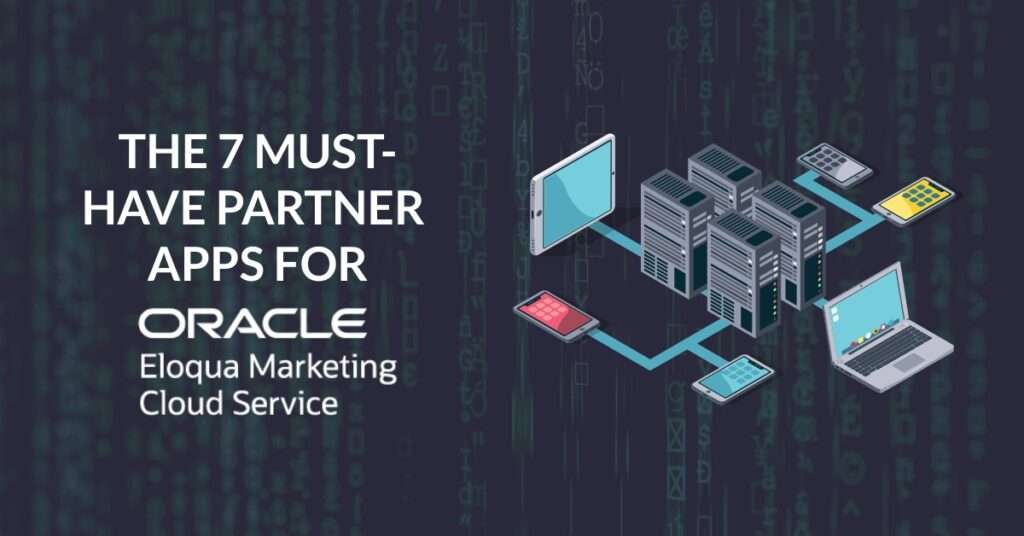 Oracle Eloqua users should be quite familiar with the wide variety of built-in functions this marketing software offers. But it's possible to expand both the value and functionality of Eloqua to improve your marketing strategy even further. What's the best way to do this? For many Eloqua users, the answer is to use specialized Eloqua Add-Ons called Cloud Apps.
Here at 4Thought Marketing, we have several favorite Eloqua apps that we use, including several we made ourselves. Let's take a look at what they are and how they make our workday easier.
Motiva AI
Artificial intelligence and machine learning now play an increasingly significant role in marketing optimization. The Motiva AI app uses the same AI that Google uses for paid searches to improve your email engagement and analyzes customer data for future campaign improvements.
What It Does: Motiva uses real-time data from your Eloqua instance to automatically optimize your campaigns and increase engagement.
Key Benefits:
Increased engagement through hyperspeed content testing, per-contact send-time optimization, and subject line advice
Monitors contact data quality to help you clean out unreachable contacts, find bots, fix deliverability issues, and lower your licensing costs
Automated segment discovery and rich reporting
Frequency management and touchpoint optimization
5-minute integration, GDPR/CCPA and HIPAA compliant
Vidyard
CTAs are an invaluable part of your marketing strategy, and can be used everywhere from emails to blogs and even videos! The Vidyard app allows you to generate leads from within your video content.
What It Does: This app allows you to embed CTAs and data collection forms before, after, or even during a video.
Key Benefits:
Choose the perfect time to add CTAs in the video's runtime
Create gated video content to gather data at the beginning of the process
End videos with a CTA to encourage customers to continue
Gather and follow up on leads faster
Track watch time and determine quality of leads based on their apparent interest
Campaign Contact Remover
If you have more than a hundred contacts in Eloqua, the Campaign Contact Remover app can make your average workday much easier.
What It Does: This app does the heavy lifting of ensuring your marketing contacts receive the correct campaigns.
Key Benefits:
Set campaign filters once so you never lose track of what you are working on
Avoid sending the same offer to contacts multiple times
What to Remember: This isn't the only cloud app developed by 4Thought Marketing. Browse a complete list here.
Contact Washing Machine
Once dirty data gets into your contact record, it's hard to get rid of. Manual review certainly isn't an option for the vast majority of businesses. That's where the Contact Washing Machine comes in.
What It Does: This app reviews your collected contact data to remove dirty data quickly and efficiently.
Key Benefits:
Trim left and trim right to clean data, similar to the trim function in Microsoft Excel
Improved automation: use regular expressions to change data in a contact
Facebook Lead Ads
It's possible to generate a lead from Facebook without the user ever leaving the Facebook site. But how do you move those leads from Facebook into your system? One reliable method is using the Facebook Lead Ads app.
What It Does: This app automatically transfers leads from Facebook to Oracle Eloqua.
Key Benefits:
Increased productivity for businesses that already rely on Facebook Lead Ads
Improved lead quality resulting from current information shared with Facebook, leading to higher customer response
LinkedIn Campaign Manager
Connecting to leads is a critical step in the sales process. With the LinkedIn Campaign Manager app, you can now engage more directly with your contacts on LinkedIn and even follow their profile to tailor promotions to their latest preferences.
What It Does: This app integrates Eloqua with LinkedIn for a more meaningful customer connection and lead follow-up.
Key Benefits:
Capture and nurture leads from LinkedIn
Target individual LinkedIn users with specialized ads
SMS Gateway
In a study of more than 1,000 campaigns, Cellit found that SMS has 8 times the response rate of email. The SMS Gateway app allows you to take advantage of the very lucrative potential of text message-based campaigns.
What It Does: This app optimizes your SMS campaigns for better delivery and increased customer response.
Key Benefits:
Two-way support: no more "do not reply" email addresses necessary
SMS-Friendly Copy: counts characters in your message to ensure optimal delivery
International support: generate numbers unique to each country you contact
What to Remember: Without consent, your SMS campaigns could be labeled as spam by the FTC. Don't get in your own way!
"There's an Eloqua App for That"
When used correctly, Eloqua apps can provide a much-needed boost to both your workday productivity and your profits. But it's important to remember not to get so focused on finding the next great app that you lose sight of your competitors stealing your customers right from under your nose—or of privacy laws challenging your practices and putting you at risk of fines for noncompliance.
Once you have your favorite Eloqua apps all in a row, what's next for your marketing strategy? Focus on issues with potentially long-lasting consequences, such as your compliance (or lack thereof) with relevant privacy laws. Talk to us about achieving GDPR compliance without endangering your newly revamped marketing strategy—or the profits it's bringing in.