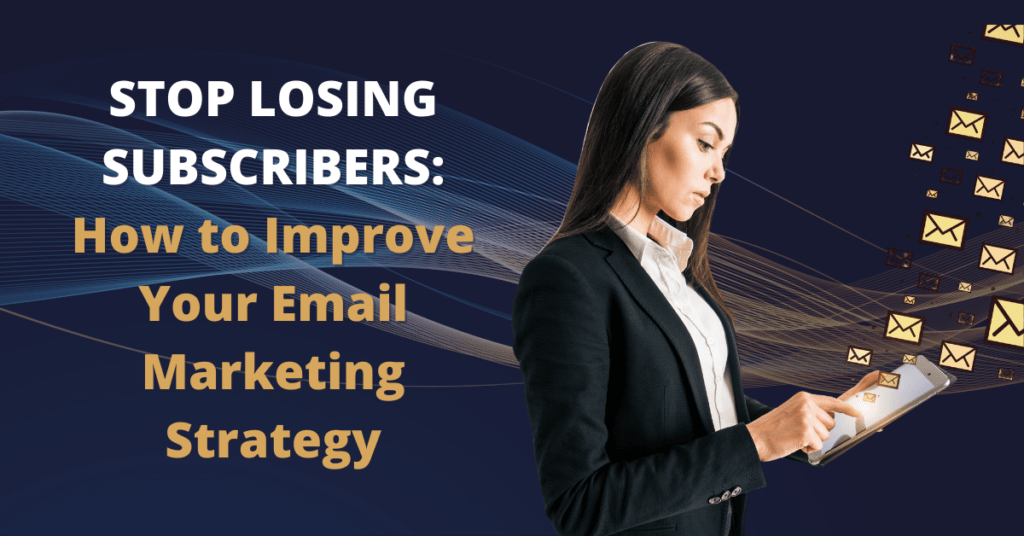 Email marketing is an essential part of the marketing strategy for most businesses. However, it can be frustrating when people unsubscribe from your email list, especially when you have put a lot of effort into growing your list and creating content for your subscribers. But unsubscribes are inevitable, and there are several reasons why they happen. In this blog post, we'll explore these reasons and offer tips on how you can win back email subscribers.
Reasons Why People Unsubscribe
Possible reasons for unsubscribing include:
Receiving too many emails
Being bombarded by sales or offers
Receiving content that isn't relevant or useful
Forgetting they subscribed, or subscribing by accident
To reduce the number of unsubscribes, it is important to review your email marketing strategy and ensure that you are not guilty of any of these common complaints. Let's explore some tips to win back email subscribers.
Tips to Win Back Email Subscribers
Receiving Too Many Emails
Email frequency is one of the most challenging things to get right. You don't want to bombard your subscribers with too many emails, but you also don't want to be too quiet. The ideal frequency of your emails will depend on your audience. One way to figure out the ideal frequency is to ask your subscribers. Send out a survey and ask them how often they'd like to hear from you. Once you have this information, use it to segment your list and send different emails to different groups.
Another way to test if you're sending too many emails is to pull back on your frequency. If you have been sending 2+ emails per week, try reducing the frequency for 60 days and monitor any changes.
Sending too little email can also hurt your business. You want to make sure that you stay top of mind with your subscribers. One way to increase the frequency of your emails without overwhelming your subscribers is to create shorter campaigns. Keep your campaigns short and sweet, and consider adding helpful tips or cross-promoting your social media channels.
Start Segmenting (or Segmenting Better)
Segmenting your email list is a very effective way to increase email engagement. By segmenting your list based on location, interest, or email frequency, you can send targeted messages to your audience that are more relevant and useful to them. This reduces the number of unwanted campaigns that end up in your subscribers' inboxes, increasing the chances of them staying on your list.
Stop Overselling
The goal of your email campaigns is to boost sales, but constantly pushing a specific sales message can be unappealing. Each email campaign should aim to drive conversions, have, but not every campaign should start with a strong sales pitch. Use email as a relationship-building tool and try to create an individual interaction with your subscribers. Send campaigns that are useful and informative, not just sales pitches.
Don't Make Unsubscribing Difficult
Some users will subscribe to your emails and then change their minds, or forget they subscribed and be surprised when your emails start showing up. Others might subscribe by accident. In either case, don't make unsubscribing overly complicated. An uninterested contact isn't likely to be a source of revenue, so there's little need to retain their information. And there's always the possibility that they'll decide to re-subscribe after having a positive experience with you.
Conclusion
Unsubscribes are an inevitable part of email marketing, but there are several things you can do to reduce the number of people leaving your list. By reviewing your email marketing strategy, you can make sure you are not guilty of any common complaints, and use tactics like segmenting your list, adjusting your email frequency, and sending informative campaigns to win back subscribers. Remember, email marketing is all about building relationships, so focus on creating campaigns that are useful, informative, and engaging.
Contact 4Thought Marketing today for more tips and tricks on improving your email marketing campaigns.