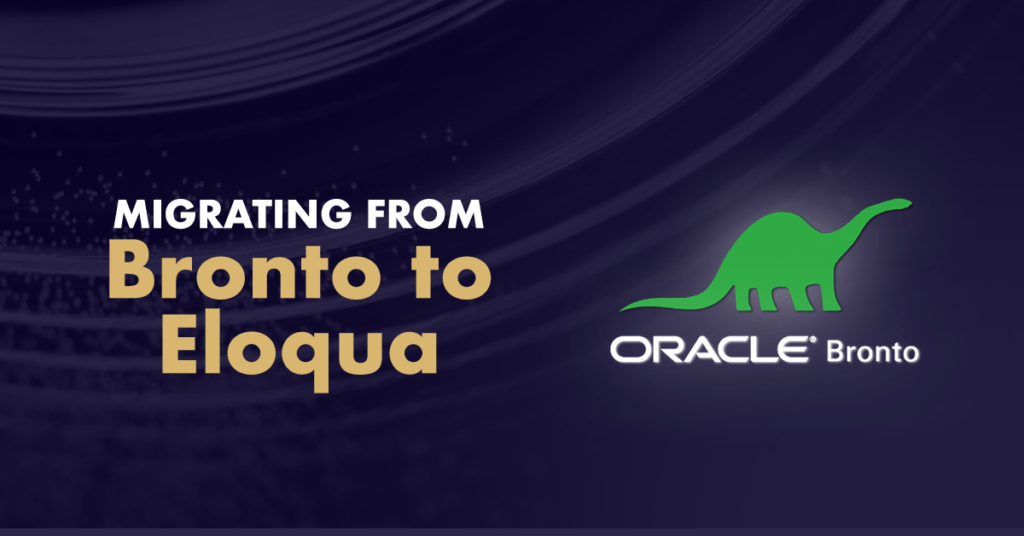 Oracle NetSuite recently announced that Bronto, a reliable and widely used email automation software, will no longer be supported after May 31, 2022. For companies and marketing agencies that relied on NetSuite Bronto for promotional campaigns, this means it's time to find a new solution as soon as possible.
Keep Your Email Marketing Campaigns Going
Marketing is a constantly evolving field. And with Bronto going the way of the dinosaurs, it's time for companies that relied on it to find a more up-to-date solution. We'd like to invite you to take a closer look at Oracle Eloqua, one of the most comprehensive marketing automation systems available. But don't take too long to decide! NetSuite Bronto won't be around much longer, and the time to find an alternative system is now.
As you consider migrating from NetSuite Bronto to Oracle Eloqua, here are several important factors to consider.
1. Campaign Flows & System Capabilities
Email marketing plans range from single email blasts to multi-step campaigns. Eloqua can support both, but the transition does bear considering. Moving from a simpler program focused on single emails requires updating your strategy to Eloqua's campaign-based system. Once the transition is complete, you'll have access to far more capabilities than you ever did in your original system.
But maybe your current tool already supports multi-step email campaigns. If this is the case, take care to transfer your workflow rules and process to Eloqua correctly. Not everything can be exactly replicated after the move. See what can be replicated and update the rest accordingly.
2. Moving Data from Netsuite Bronto to Eloqua
Chances are, your current email marketing system contains far more data than you actually need. Take the opportunity to clean up your data and remove unusable or expired information. You can also standardize your information by state, country, etc. to easily replicate your database in Eloqua.
Duplicate data is more complicated. Sometimes more than one lead will use the same contact information, like a husband and wife sharing an email address or home phone number. Some email marketing software allows for situations like this, but Eloqua does not. Before you migrate duplicate data, either remove the duplicate or note the reason to retain it. You'll then have to construct a custom object in Eloqua to store the duplicate information.
3. Asset Migration
Your old software has all of your assets—emails, landing pages, forms, etc.—that you constructed within the system. Eloqua allows you to keep these assets in their original HTML format or to transfer them straight into the built-in editor, depending on your preference. But Eloqua has more to offer here than a simple drag-and-drop transfer system. During your asset migration process, you can take advantage of Eloqua's systems to clean up your collected forms. Eloqua allows you to:
Merge identical or nearly-identical assets into a single file
Standardize your templates and/or designs for easy future use
Recreate forms and/or emails in the Eloqua designer
Easily create new forms and/or emails with the same design and branding as the originals
While Eloqua is designed to make asset migration as simple as possible, migrating activity records like email clicks or website visits requires a little more care. You absolutely need this information for segmentation purposes. However, Eloqua cannot perform a one-to-one transfer of activity history. Instead, you will need to transfer the data and save it as an external asset or a different element within Eloqua. You can also choose to simply archive the data until you need it. Either way, the transfer process requires a little more thought.
4. Running Two Email Systems at Once
Migration can take two months or more to do properly. But since no company wants put their marketing campaigns on hold for two months, the best strategy is to run both systems in parallel. Your original email marketing software will continue to manage campaigns for the moment while you work on duplicating those campaigns and their assets in Eloqua. This gives you plenty of time to ensure that Eloqua can pick up where your previous system left off. Once the transfer is complete, you'll enjoy a seamless transition with no interruption to your marketing plans.
5. Give Yourself Room for Testing & Troubleshooting
Finally, remember that no migration is perfect, and despite the best planning possible, things can and do go wrong. Maybe you have way more unused emails than you remember and have to clean up your collection before transferring. Maybe you can't fully replicate your design in Eloqua and have to make a few changes. Maybe your computer will hiccup and interrupt some of the data transfer. Any number of things could happen. Be ready to deal with problems quickly when they do happen, and more importantly, give yourself enough time to handle them.
Marketing experts advise setting aside between 4-6 weeks and 2 months, if not more, to complete your migration. Plan for a longer process if you anticipate trouble. You owe it to your company to perform a successful migration for successful future campaigns.
Get Help from Eloqua Migration Experts
At 4Thought Marketing, we are experts at helping companies migrate to Oracle Eloqua. Give us a call today for more information on Eloqua and how to successfully migrate from Netsuite Bronto.
---
---