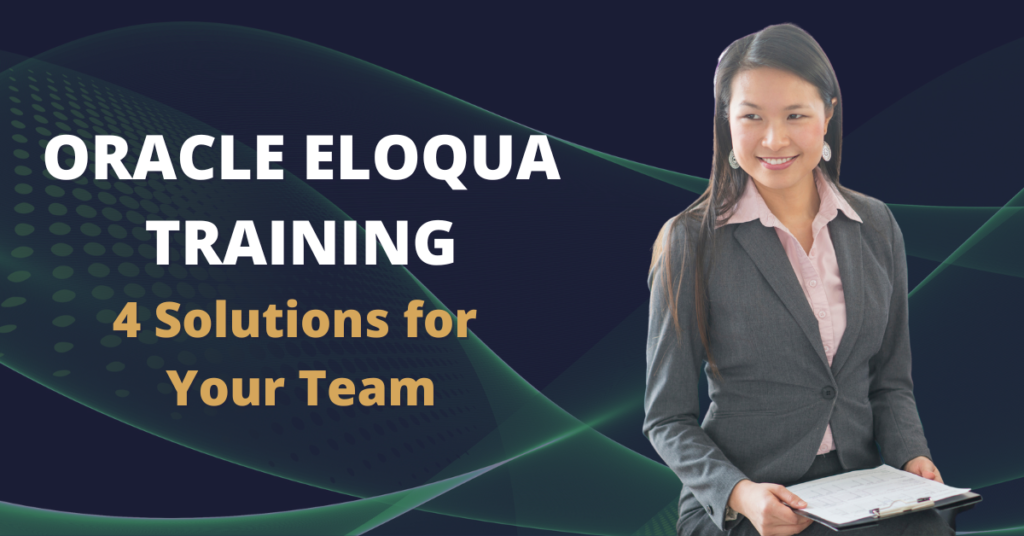 Is your marketing team eager to onboard self-service Eloqua users? Great news! Onboarding a new Eloqua user is a valuable investment that pays off by empowering your team. You can efficiently and effectively bring each new team member up to speed with excellent training options, even in a fast-paced environment. Streamline your process without sacrificing quality with these top-notch Oracle Eloqua training options.
Solution 1: Oracle University—Virtual or In-Person Live Training
Oracle itself provides extensive training options through its Oracle University program. Oracle University offers in-person and virtual private events, creating a safe and collaborative environment for your team to learn, question, and explore.
Better yet, when you contact Oracle to schedule a training event for your team, you get to help develop the lesson plan. Your private event will focus on your organization's specific pain points and practices. This also helps provide your team with a sense of familiarity and alignment, ensuring that everyone is on the same page.
Customized training offered by Oracle University provides a targeted and efficient approach to address your organization's particular needs and information gaps. By participating in private events, your team can learn, question, and explore in a safe and collaborative environment.
Solution 2: Oracle University—Free & Paid Options
For professionals looking for a ready-made training program, Oracle University provides additional options for Eloqua training, including:
The Learning Explorer Program: This free Oracle Eloqua training system offers entry-level online courses.
Oracle Cloud Learning Subscriptions: Eloqua's cloud is always updating and changing. These paid courses allow your team to keep up with every update and fill in information gaps.
Oracle Training & Certification: These specialized courses focus on specific job roles or Eloqua functions, giving your team members the chance to develop their particular skills and earn certifications. This option also offers the chance to speak with Oracle product experts for valuable insights and interactive learning.
Solution 3: Developing Your Own Eloqua Training Program
If you have access to a learning management system that aligns with your business requirements, you can also consider designing your own Eloqua training program. This may be a good option for a large company with the time and resources to devote to a fully customized, in-house training system.
If you're interested in implementing this kind of training program or seeking assistance from an agency, here are some tips to guide you through the process:
Determine access levels: Clearly define the level of access you want to grant to self-serve users and identify the specific assets they should be able to interact with. Decide where to draw the line between user control and restricted areas.
Develop training content: Creating the training materials, especially the videos, will require a significant investment of resources. However, by dedicating time to develop comprehensive training videos tailored to your company's specific needs, you can save valuable hours in the long run.
Build quizzes: While making training materials available is important, incorporating quizzes adds an extra layer of assurance that trainees are comprehending the content. Quizzes encourage active learning and help ensure trainees are not simply going through the motions. They provide a structured learning experience, reinforcing knowledge from previous videos and validating the trainee's understanding.
Tailor the training sequence: Based on the areas of Eloqua you want users to learn, determine the number and sequence of training materials. Start with basic concepts and gradually progress to more complex topics.
Provide incentives to finish training: Restricting access to the Eloqua system until the training program is completed serves as motivation for trainees to engage with the materials. It reinforces the importance of training and ensures that individuals who gain access to the powerful system are equipped to use it effectively.
Build campaign materials: Set up the campaign materials within Eloqua, including emails, landing pages, and quizzes. Custom JavaScript coding is often required for landing page validation and form data collection.
Consider incorporating existing training materials: Regarding the use of existing Eloqua training videos, it is certainly an option worth considering. If you lack the time or resources to create custom videos, incorporating the general Eloqua training videos can supplement your training course. However, custom videos offer the advantage of covering client-specific information, such as naming conventions and folder structures, that may not be addressed in the general training videos.
Thorough testing: Prioritize extensive testing of the training program with both experienced individuals who understand the desired flow and newcomers who provide fresh perspectives. Gather feedback to identify any areas that require improvement or clarification.
Continuous improvement: Once the training program is live and users start utilizing it, gather feedback from trainees to enhance the training further. Identify weak points and refine the program based on user input, aiming to make it as useful as possible for self-serve users.
Remember that these tips can be tailored to your organization's specific requirements and preferences. The key is to ensure that your self-serve users receive effective training to empower them without causing any additional issues.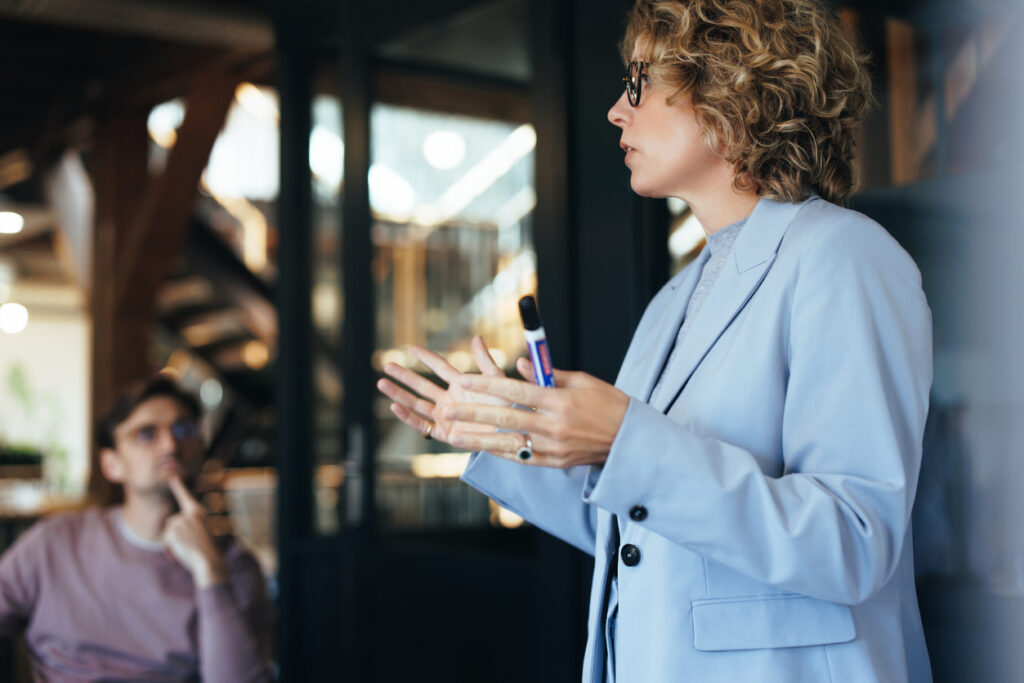 Solution 4: Customized Eloqua Training with 4Thought Marketing
At 4Thought Marketing, we have created custom training solutions for many clients that focus on emphasizing the client's particular branding and pain points. Our approach involves implementing a self-paced and structured training format that ensures users actively engage with the training materials. We take the time to help trainees retain what they've learned, rather than simply rushing through a set of tests to get Eloqua access before they're ready.
Here are the key components of our custom-built training program:
Emails: Similar to a customer communication campaign in Eloqua, the program utilizes a series of triggered emails based on specific criteria. These emails guide users through a sequence of training materials, structured in a logical order that facilitates building upon previous modules.
Custom training videos: To effectively convey concepts, we develop tailored training videos specifically designed for each client. These videos cover both the general usage of Eloqua and client-specific standards and practices, including naming conventions and asset utilization within Eloqua.
Quizzes: To ensure effective learning and knowledge retention, the training program includes quizzes. These quizzes serve as checkpoints to confirm that participants have absorbed and understood the training content before progressing to the next stage of the program.
At 4Thought Marketing, we believe that getting the most value out of your Oracle Eloqua instance is a critical step to long-term business success. We'd love to help you get started training your team to use this software better than ever. Contact us today to plan your training event.