Shared Email Addresses and Eloqua – Top 5 Considerations
Most Eloqua users probably are aware that each Contact record in Eloqua has a unique email address. Oracle Eloqua doesn't allow different individuals to share a common email address or receive their own unique email – at least not with 'out of the box' functionality.
Your customers aren't bound by these rules. There are cases where multiple people may share an email address such as household members, or a single person may wear enough hats to require more than one record in Eloqua.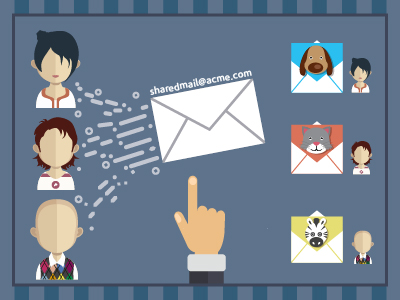 Some examples:
Cruise Ships. A family may book their reservation using a single email address, but you need to send itineraries and special event information to each individual in the household
Education. Parents of multiple children need information about each of their kids' school activities
Auto dealerships. A vehicle owner needs to be kept informed about services for multiple vehicles
Corporations. A large company with multiple business units needs to email business unit-specific information to a shared lead
In these cases, it often is necessary to use Custom Objects (COs or Custom Data Objects) to store the information about each individual.
Check out this video for more Many-to-One Email Address use cases.
Five things you need to do if you want to market to customers with a shared email addresses in Oracle Eloqua
#1: Consider All Your Data Sources
How you load the data matters. If you use Oracle Eloqua CO to store individual data (for example product preference, job title, or area of interest) you will need to find a way to create and/or update the CO when you get new information. Data in Oracle Eloqua comes primarily from three places: Form Submissions, List Uploads, and CRM integration. Each input source has its own set of concerns to consider. For example, if you are doing a list upload, do you want to create a new CO each time? What is the unique ID for the CO and can the list upload determine if one already exists?
If the source of the data is a form submission or CRM integration, you'll want to answer the same questions.
#2: Pay attention When Integrating with Your CRM
In the same way you need to determine if a CO should be created or updated, you'll need to understand what records will be created or updated in the CRM. Just like a standard CRM integration, you need to look at the business rules for creating and updating Leads and Contacts in the CRM, and retrieving that data back into Eloqua. Many-to-One scenarios make these decisions a little more complex because you also have to understand which fields go to the Contact, and which go to the Lead CO.

For example, First Name and Last Name belong at the Eloqua Contact. But what about Lead Score – that is probably linked to the Lead, as is Lead Status. And then you have other fields such as preferences or whether the individual is a customer. You need to look at the business use of these fields to determine if they are at the Lead or Contact level.

These are just a few of the many situations where your CRM integration will need to be examined even more closely than before.
#3: Revisit How You Manage Subscriptions, Preferences and Opt Outs
When two or more people share an email address and one globally unsubscribes, all individuals linked to that email address will automatically be unsubscribed.
One way to get around this is to use Preference Management. This way each individual can identify which emails they would like to receive, and which they don't. This introduces a new layer of complexity when segmenting data for campaigns.
#4: Revisit Lead Scoring
How you score and how you store these scores needs to be addressed Just as you'll want to manage email preferences on an individual basis, you may want to score each individual separately from others who share the same email address.
#5: Be Deliberate with Segmentation and Personalization Merges
When you have multiple COs for a single email address, and want to use data from the CO for field merge purposes – e.g. start the email with "Hi [fname]", you'll need a mechanism to perform the following functions:
Find all Contacts who meet your campaign segmentation criteria

Find the correct CO record from which to pull the data to be used on the field merge

Move the data from the CO to the Contact
You'll then want to cycle through the COs in case there are multiple CO records that meet your campaign criteria.
The Many-to-One Email cloud app from 4Thought Marketing meets all of the segmentation and field merger criteria described here, and more.
One More Thing…
Finally, you'll want to take a careful look at your other data flow processes to identify those that would be impacted by sharing email addresses.
Going down the household email path requires expertise – but it can be done.
4Thought Marketing has successfully implemented Many-to-One email processes for B2B and B2C clients. We take a holistic approach to your problem. We'll help you clearly define your needs and then determine if Many-to-One is right for you. Just like you, we don't want to make your life more complicated than it already is…but if you have complex business needs, we're there to help simplify where possible.
For more information call us at 1-888-356-7824, or contact us and we'll get in touch shortly.