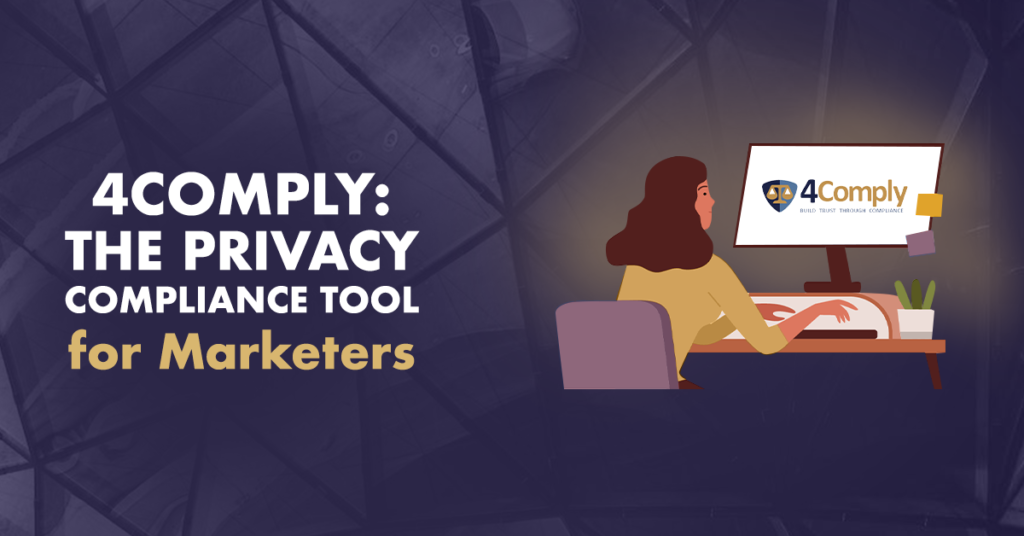 Generally speaking, marketing and legal have differing priorities when data privacy is involved. The legal department wants to play it as safe as possible to leave no room for accidental privacy violations. Meanwhile, marketing wants to collect and use data wisely for advertising purposes. In addition, each department speaks their own language. How can marketing and legal learn to understand each other and work together effectively?
At 4Thought Marketing, we believe that as important as privacy compliance is, it shouldn't hinder your company's marketing efforts. Our goal is to empower marketers to promote their company without compromising data privacy. That's why we developed our own, marketing-friendly privacy compliance software: 4Comply.
4Comply: Built by Marketers, for Marketers
4Comply results from privacy-conscious marketers building a solution to balance marketing and advertising with a healthy respect for customer data . This software keeps marketers' challenges and needs at the forefront. 4Comply's robust privacy compliance system and activity record keep the legal department happy while empowering the marketing department to maximize its potential.
Privacy & Marketing Working Together
Marketers have a long list of responsibilities. A large part of marketing is tapping into the company's existing customer base and providing timely, relevant offers that yield profitable returns. After all, it's much easier to sell more to an existing customer than to find and convert new customers. But to do this effectively, you need a set of guidelines.4Comply allows marketing departments to adhere to privacy policies provided by the legal team. Team members can determine which privacy laws apply (usually depending on a customer's geographic location) and input the values into 4Comply. The marketing team contributes to the privacy policy based on their own requirements. From there, marketing helps keep the company in compliance by running inbound systems, and by collecting information to properly classify customers according to provided consent.
4Comply is the Missing Piece
When we developed 4Comply, we aimed to empower marketers to maximize their efforts while ensuring legal compliance. Our solution is designed to do more than just make privacy and marketing compatible. We want them to work together for a common goal. If your legal and marketing departments are struggling to find that common goal, give us a call and schedule a free demo of 4Comply. Let us show you how your marketing and legal teams can work together to ensure privacy compliance.